There are many advantages to owning a domain name - especially if you can manage it within your Bravenet account configured with pro hosting. Complete control over all aspects of your domain is available to you with the ability to create unlimited subdomains, FTP accounts and e-mail addresses, among many other included features - all ad-free. Of course, domains can be registered within any Bravenet account at any time, but this article will cover transferring domains - specifically transferring a domain registered elsewhere into your account to take advantange of our powerful domain and hosting management features and tools.
So when would you want to transfer a domain and why? If you're currently using a free Bravehost website address (ie: youraddress.bravehost.com) and have a domain registered with another company that you want to manage within your Bravenet account, transferring a domain to be used with, or to replace your existing Bravehost address can improve your website's level of professionalism. When used with the pro hosting package, new features become available that can't otherwise be used such as customized e-mail addresses and unlimited MySQL Databases.
Even members with existing domains being managed within their account who are already using pro hosting can take advantage of its multi-domain hosting ability to manage the new domain, whether they're choosing to create as many subdomains as they want, configure it to forward to their main domain, or just add it to their list of hosted addresses.
Making sure your domain will transfer successfully
There are a few requirements to ensure your transfer will complete without an issue. Please make sure your domain meets these requirements to avoid problems or delays!
Your domain cannot be transferred if it is within the first 60 days of registration, expires in less than 7 days or is currently expired. This is the standard with all domains and we ask that you wait until your domain is older than 60 days before attempting to transfer it in the first case, and renew the domain before attempting the transfer in the last two cases.
Make sure that your domain is not locked and that you have the correct transfer password (otherwise known as an EPP code). Please note that this is not the same as your account password. The domain can be unlocked and the transfer code acquired with the company you're currently using to manage your domain. If you're unsure of how or where to find this information, just ask them!
If you have any "Privacy" options enabled to hide your WHOIS details from the public, this will need to be disabled. This is because as part of the privacy your domain company applies to your domain, the contact e-mail address normally associated with your domain is changed. It is important that this is set to an address you have access to (which will become the case when this is disabled) so you can approve the transfer. You can enable this again after the transfer has completed.
Ensure that the contact information on the domain is up to date. Specifically, you will want to check the administrative contact email address that is listed on your domain name. You should be able to do this through your account with the current company.
Initiating the transfer
You can initiate a transfer for your domain in the process of upgrading your hosting service, giving you the convenience of making these purchases at the same time, and ensuring the transfer starts immediately after you make the purchase. If you already have hosting or just wish to transfer a domain see below.
To do this, just visit the "websites" section of your account and click on "upgrade hosting". Click "get bravehost", then choose any of the pro hosting package terms.
Next, choose the second option shown here, and click "Continue" on the right.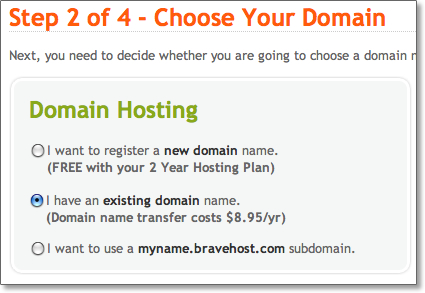 You will then be able to enter your domain transfer code and create contact information if necessary, before proceeding to the checkout to complete this purchase. This process is described in more detail below.
A transfer can also be purchased in the "domains" section of your account using the "Transfer a domain" link.

1. Enter your domain as is shown here, excluding any spaces and extra characters and click "transfer domain".
2. At this point you may need to create domain contact information, if none currently exists in your account, to be used with the domain once the transfer completes. If this is the case, click the "create a domain contact" link and enter your details, completing the entire list and ensuring that there are no extra spaces or special characters included, as shown below. Including these will return errors and they will need to be removed to continue.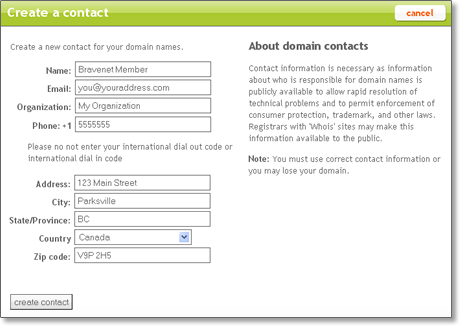 Next, enter the transfer code as acquired or issued by your domain company. This is typically not a word, but a random series of characters, both upper and lower case, and may include numbers as shown below.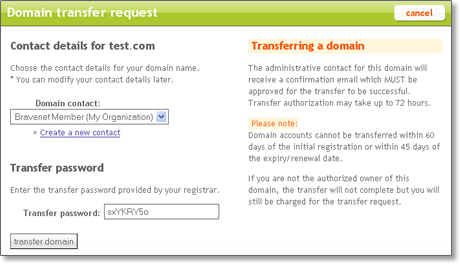 Transfer codes are always at least six characters. Please contact the company your domain is with if you are unsure of what your code is as the transfer can't process without it, and if an incorrect code is entered, the transfer will fail.
The final step is to complete the checkout process and purchase the transfer, allowing it to begin processing. After entering the transfer code, you will be at the Order Summary page for this order. Simply enter your payment information and click the appropriate payment button to complete the order!
The administrative contact for this domain will receive a confirmation email shortly after the order is completed which must be approved for the transfer to be successful. If you don't see this message within a few hours, please check your spam folder and settings. If you still can't find it, don't worry - our support team can re-send this to you if needed!
Once you click the link within that message to approve the transfer, your part is done and all that is left is the processing between the old domain company and Bravenet. This processing is standard and will take about 5 full days to complete.
During this time, you will see that your domain is listed as "Pending" within the "domains" section of your account.

Once the transfer has fully completed, it will be automatically added to the "Manage Domains" area with any other registered domains you may have in your account.
In short, transferring a domain is easy and the benefits of managing a domain with Bravenet are numerous. Here are just a few:
24/7 Customer Support to assist you through the transfer every step of the way and provide you with transfer status updates. If there is a problem and the transfer doesn't complete, our support team will find out why and re-process the transfer, honoring your original payment. To get help, open a support ticket here at any time: http://support.bravenet.com
Upon completion of any transfer, your domain is automatically renewed for 1 year!
Extensive domain management tools with further features available when combined with a pro hosting package.
Sign up for Hosting
and transfer you domain today!